I love this meme and reading my lovely sisters entry over
Would Like To Be a Yummy Mummy
reminded why. So this week I decided to pen to paper, or fingers to laptop and get mine down. If you want to join in, Its every Friday and is run by the Fabulous
Three Bedrrom Bungalow.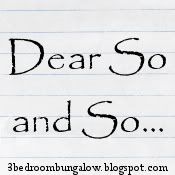 Dear Neighbours,
I have asked you before but will kindly ask you again. Please, please can you close your door instead of slamming it like your life depends on it. Our flat shakes like we've struck by an earthquake and it's getting increasingly annoying. It's really not that difficult. Turn around and close the door. Not quietly or gently, just normally like normal people do
From your very perturbed neighbours
Dear Bump
Please can you turn over. Dangling your feet downwards is not the right position for safely entering the world. I will endure the discomfort whilst you wiggle and squiggle into the right position. I will even stand on my head if it helps, you only have to ask.
Love your ever hopeful and very excited Mummy x x x
Dear Nausea
Seriously, enough already. I have suffered your persistence for nearly 26 weeks and I'm worn out. Perhaps you could disappear tonight whilst I sleep so I can enjoy what little time I have left of this pregnancy
From your very sick and tired owner x
Dear Bottom
Please stop spreading. I know it's necessary to gain a little padding to balance the bump but you're going too far. If you continue we will be topple backwards, there's definitely no chance of going forward now as you are already too big. I'm doing my best to support you but fear I'm fighting a losing battle
From your seriously swollen feet
Dear Friends and Family
Please do not buy me chocolate, no matter how much I beg. Not only does it increase the nausea but it is also contributing to the above.
From a very desperate me x
Postman Pat if you're listening, I look forward to you delivering some responses
Donna................x